Overview of this Guide
This guide is wallthrough to get started integrating RealOpInsight with Zabbix in a few minutes using a Docker image. For other installation options, i.e. using binary packages or a virtual machine image, please refer to our complete Installation Guide.
At the end of this guide you will see how RealOpInsight provides easy yet powerful alternative Zabbix dashboards for operations monitoring.
Before you begin
The below steps assume that:
You have a running Zabbix installation with its JSON-RPC API enabled. Zabbix version 1.8 or higher is required.
You have a Zabbix account (username, password) having a read access to all trigger items. For more details refer to Zabbix API documentation.
Start a RealOpInsight Docker Instance
The following command will start a RealOpInsight Docker instance in background.
    $ docker run -d --name realopinsight --publish 4583:4583 rchakode/realopinsight

Remark that this command allows to bind the RealOpInsight web interface port (4583) to the local machine.
Inside the container, binaries, logs, and many other configuration files are located at /opt/realopinsight/.
Connect to RealOpInsight Interface
The RealOpInsight Web Interface is available at the following URL: http://127.0.0.1:4583/realopinsight/.
The default administrator credentials are admin/password.
For a prodution setup and must be kept secured the default password must be changed as quick as possible.
Integrate Zabbix as Monitoring Data Source
Proceed as follows in order to integrate Zabbix as a monitoring data source:
Log into RealOpInsight as administrator.
Select the menu Monitoring Sources to fill in the monitoring source settings.
Set the property Monitoring Source Type to Zabbix.
Set the property Monitor API Base URL with the URL of Zabbix web interface (e.g. https://zabbix-server/zabbix/, assuming that Zabbix is installed on a server named zabbix-server and accessible over HTTPS).
Check the property Don't verify SSL certificate only if you use a self-signed certificate.
Set the property Auth String with a string username:password corresponding to the credentials to connect to Zabbix API. Note the colon : between username and password.
Click on the button Add as source.
When prompted, select Source0 as Source Id.
Click on Apply to save the changes.
On success you shall see a message confirming that.
For this quickstart a single source is enough, but you can repeat the above steps to add as many monitoring sources as you want to integrate with RealOpInsight.
Autodiscovery, Operations Views & Zabbix Dashboard
As a first and very simple way of starting using RealOpInsight with Zabbix is to automatically discovered triggers in Zabbix and organize them within a hierarchical host/group-based operations view, as illustrated hereafter. In this approach, triggers are discovered basing on a host/group filter that you specify as input for the auto-discovery process.
hostgroup 
  |
  +---host1
  |        |
  |        +--item1
  |        |
  |        +--item2     
  +---host2
  |        |
  |        +--item1 
  |        |
  |        +--item1     

By this way you can ultimately setup operations views that can be watched at the highest level as below. It's worth noting that this is a very basic way of building operations views using RealOpInsight. Its Web Editor offers rich features to allow you to build specific and highly customizable operations views.

Create Your First Autodicovered Zabbix Dashboard
Log into RealOpInsight as administrator.
Select the menu Service Editor to launch the editor.
Select the button to load the autodiscovery form.
Select a source in the displayed list (only Zabbix sources shall be listed).
Set a host/group name for filtering the triggers to fetch from Zabbix API. For this quickstart guide you can set it to Zabbix servers, to fecth triggers for all hosts in Zabbix servers group. If no filter is set, what is not relevant nor recommended – unless you have a small monitoring installation, all the triggers in Zabbix will be fetched.
Click on Apply to start the process.
On success the operations view associated to the discovered triggers will be loaded in editor. It shall be named using the value of the host/group filter set. If no filter has been set it shall be named Zabbix Services.
You can then rename the view as you want by modifying the property Name of the root service from the editor.
From the editor you can edit each individual imported item by selecting it from the tree view. You can for example, edit the label associated to the item (Name property) or delete the item (Shift + X) if you don't want to consider it in your operations view.
Click on the button to save your changes.
Application Dashbaord
Please read our Overview about Application Dashbaord if needed.
As administrator you can preview and check the Application Dashbaord for any single operation view before assigning it for operations.
Log into RealOpInsight as administrator.
Select the menu Manage Views to see the list of managed views.
Select the menu Preview.
Select an entry in the list of managed views (e.g. select the entry you created above).
Click on Apply to display the Application Dashbaord.
Click on the button to refresh the views (service map, service tree, message panel).
On our example we can see that there are problem on three items. The impact of each event is easily is highlighted using the tree view, the service map and the event console.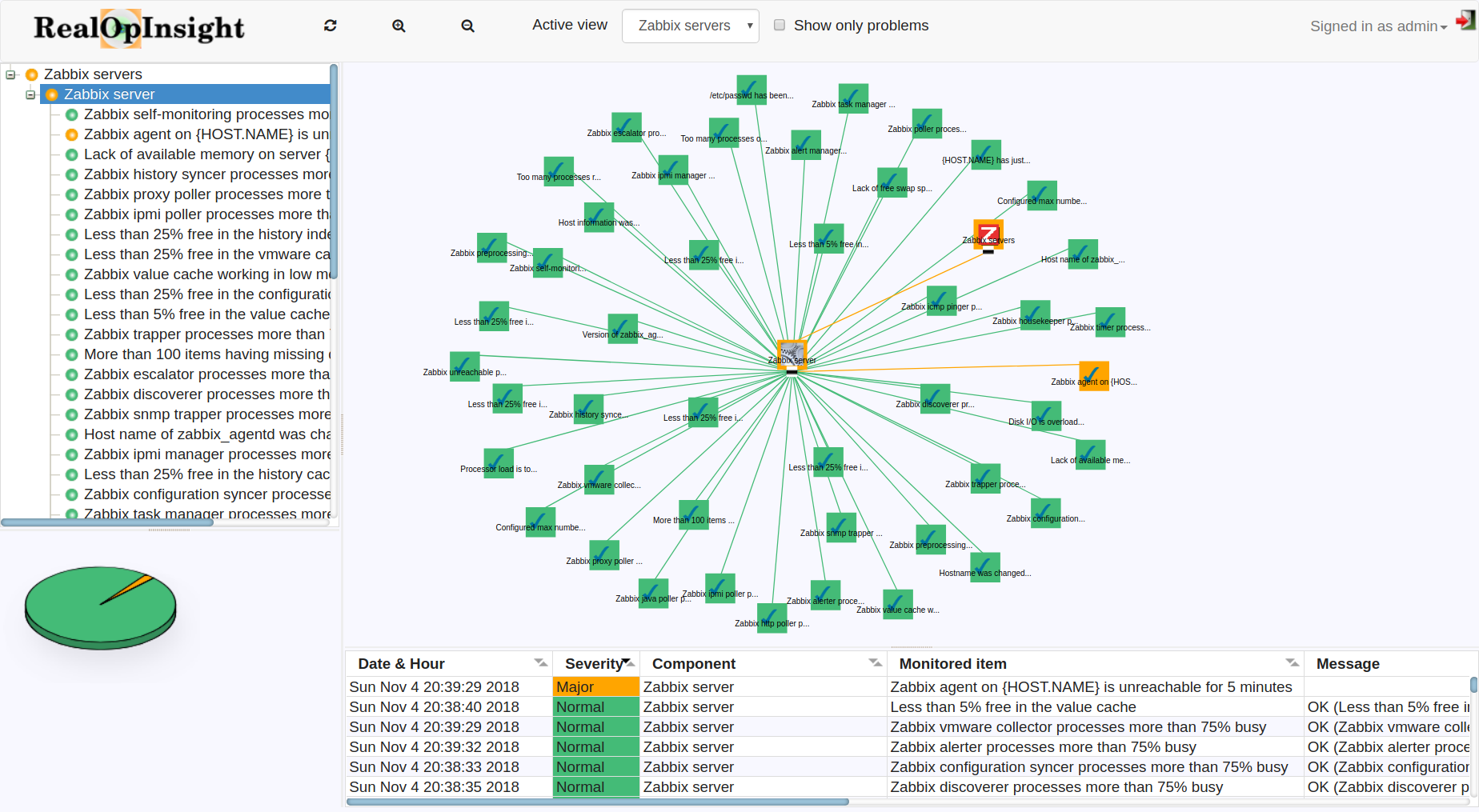 Executive Dashboard
Please read our Introduction about Executive Dashboard if needed.
As a user defined as Operator in RealOpInsight, you have access to an Executive Dashboard that acts as home page on login. The Executive Dashboard can consist of no, one, or many items as illustrated by the following screenshot. It's organized like a grid with configurable number of columns. The items displayed in the Executive Dashboard should be explicitely assigned to the operator by a user having administrator role in RealOpInsight.
The rest of this section will describe how to create Executive Dashboards and use them.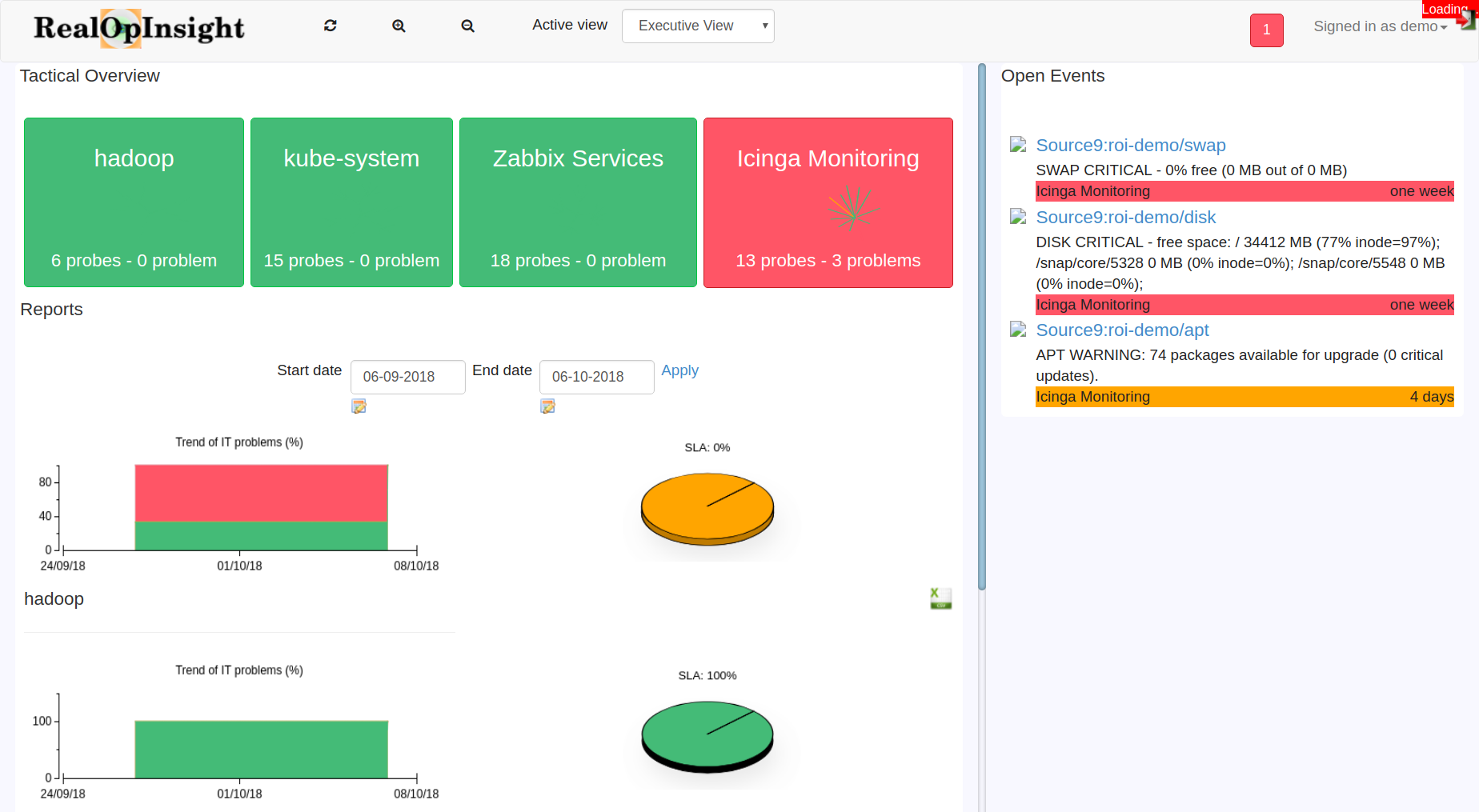 Create a Operator User
Log into RealOpInsight as administrator.
Select the menu New User.
Fill in the user information:

Password must have at least six (6) characters in two classes (upper/lower cases, digits, special characters, etc.).
Ensure to select Operator as User Role.
The property Dashboard Tiles Per Row allows to set the number of columns for the Executive Dashboard.

Click on Submit to save the changes.
Assign Operations Views
Log into RealOpInsight as administrator.
Select the menu Manage Views.
Select an operator in the user selection list at left.
Select one or several items in the list of business applications at the right.
Cick on Assign to apply the changes.
Operate Executive Dashboard
Log in as operator
On login the operator Executive Dashboard will be displayed with the items assigned to him.
You can select a tile to displat the associated Application Dashbaord.
When an Application Dashbaord is active, you can select Executive View to go back to the Executive Dashboard.
This is the end of this quickstart of RealOpInsight, please follow the below links to move forward with advanced use.
Related Links